Details
A month ago, on May 13, 2019, Tailwind team released 1.0.0, the first stable release of the project. Tailwind has been growing exponentially, and the step of defining a stable API is the most important milestone achieved so far.
At its core, Tailwind offers:
A clean and simple Utility-first set of tools and syntax to express any design
A modern toolbox to quickly manage templates
A consistent approach to achieve the objectives with a lean methodology
I have created a template for Joomla that implements Tailwind CSS. Now, it is the right time to publish the third version of the template that empowers this blog: anibalsanchez/XT-Tailwind-for-Joomla v2.0.3. The template comes with the latest Tailwind CSS version (1.0.3) that has been released after the v1 mark. It is powered by Tailwind, Webpack, PostCSS, PurgeCSS, and CSSNano. The final size of the stylesheet is minimal, 3KB.
To know more about this fantastic Utility-first CSS framework, there is a whole array of updated documentation, that showcases how the framework achieves its objectives: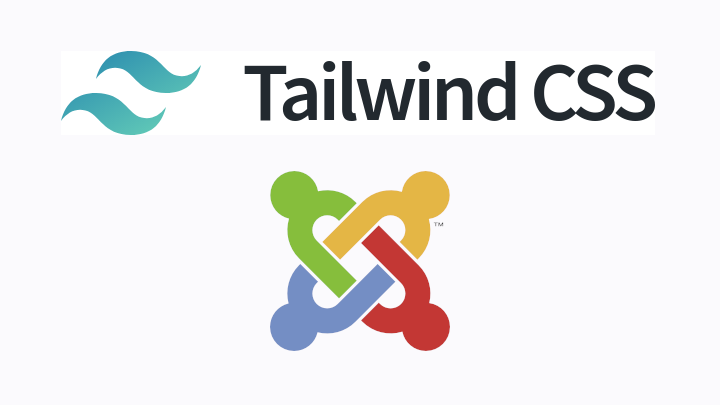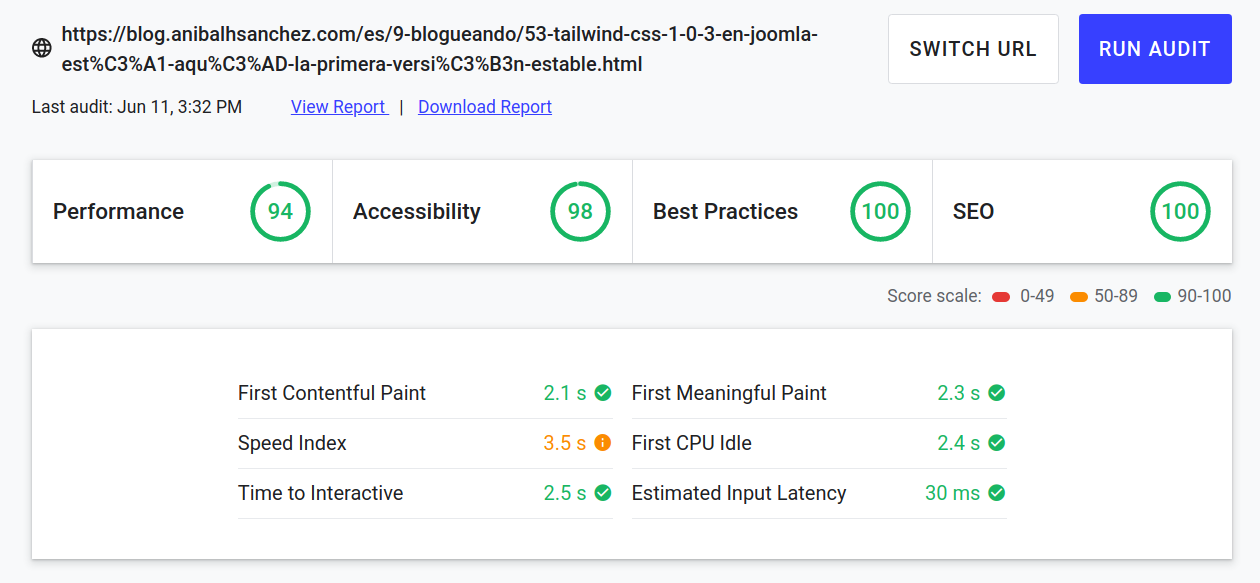 Good numbers, there is still room for future improvements.
To the moon!
Details
After many years of build extensions for Joomla with traditional tools like bash scripts or Phing, I have started a project Extly's Buildfiles for Joomla to modernize my personal Toolbox for Joomla extension development: anibalsanchez/extly-buildfiles-for-joomla.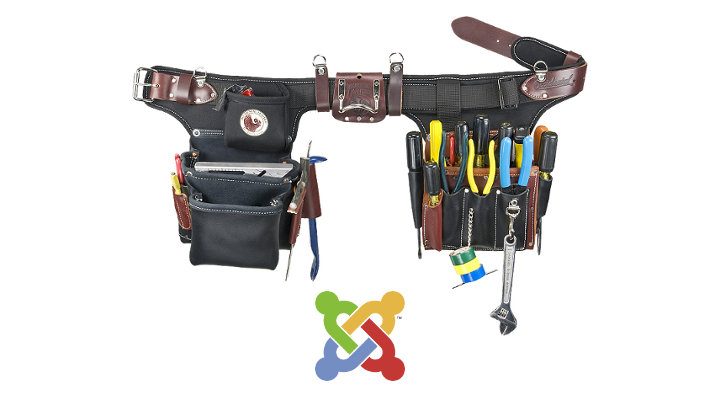 At this time, JavaScript is a dominant driven force in all of my projects. So, seamless integration between PHP and JavaScript ecosystems is the best approach. So, the build scripts are mainly based on JavaScript dev tools to integrate modern PHP and Joomla development.
The key features of the project are:
Powered by Webpack to build and support the development workflow
Support for any type of Joomla extension: component, CLI files, template, etc.
Flexibility, to exclude and customize the package merely deleting folders or customizing the build template files.
Template files to create the manifests
Translation files to automate the translation management.
A Library, to pack Composer libraries or any other library.
Support of mobile apps, progressive apps or single page apps (App folder)
When the project started, I forked it from joomla-extensions/boilerplate, with the idea of submitting a PR to improve the original project. However, the addition of scripts to manage the package and control the extension has increased the complexity beyond what a user would expect from a boilerplate project.
To sum up, I have already migrated more than 20 extensions to the new organization, and the build files are supporting well the development process. The experience confirms that it is possible to integrate JavaScript and PHP in the creation of a single ecosystem. Both technologies can stand at the same level and be complementary to evolve together. The next logical steps are going to be the migration of the rest of my extensions and the implementation of build server based on these build files.
Feel free to clone, fork, use it or propose improvements. To the moon!
Details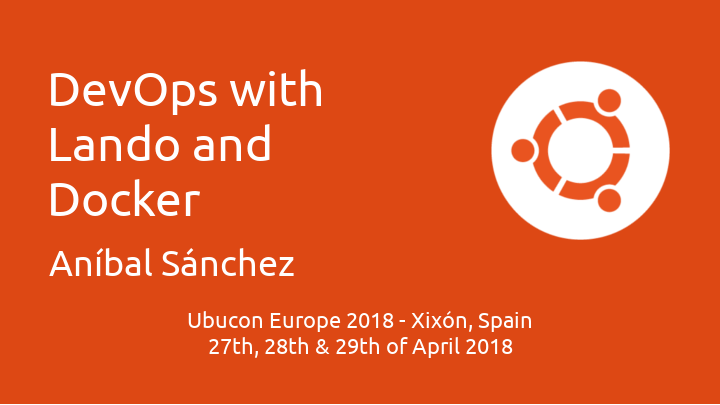 Across the world, the community gets together to organize UbuCon events to celebrate Ubuntu and forge new friendships.
Ubuntu has always been with me. I'm a confessed fanatic, and I deploy Ubuntu on every computer that I can. Now, I have the fantastic opportunity to attend an UbuCon conference, here in Gijón/Xixón, Spain, and meet the community. On top of this, I submitted a conference about Lando (https://docs.devwithlando.io), it has been accepted and I will be honoured to introduce this toolkit.
Lando is for developers who want to quickly specify and painlessly spin up the services and tools needed to develop their projects.

It's a free, open source, cross-platform, local development environment and DevOps tool built on Docker container technology and developed by Tandem. Designed to work with most major languages, frameworks and services, Lando provides an easy way for developers of all types to specify simple or complex requirements for their projects, and then quickly get to work on them. Think of it as your local development's dependency management tool...
Don't miss this event. It's going to be awesome. Registration is still open http://ubucon.org/en/events/ubucon-europe and the Schedule have been published http://ubucon.org/en/events/ubucon-europe/schedule.
To the moon!
Details
Continuing with the subject of the "Mobile Apps Development for Websites", which took place at Joomla! Day Madrid 2017, we are now going to introduce the integration of web and push notifications in Joomla!.
Notifications are a new mean of direct communication with users. They have unlimited potential, but also a capability that must be used with care. In the presentation, we will present the integration of Joomla! with Web Notifications and the integration of a SlimApp with Push Notifications and our Joomla! site. Finally, we will also introduce notification services like OneSignal or Pushwoosh.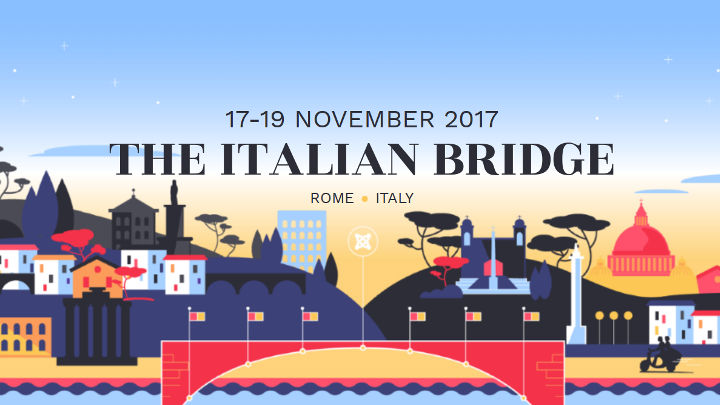 If you plan to go to the conference, Blind Bird tickets are now on sale: https://conference.joomla.org/buy-tickets.html
If you are Interested in sponsoring the Joomla! World Conference 2017, there are packages still available: https://www.sponseasy.com/p/joomla-world-conference-2017
See you in Rome!
Recommended Reading
UPDATE: Web and Push Notifications for Joomla! - Slides
After few more updates and corrections from community feedback, here they are the final Slides. http://joo.nu/jwc17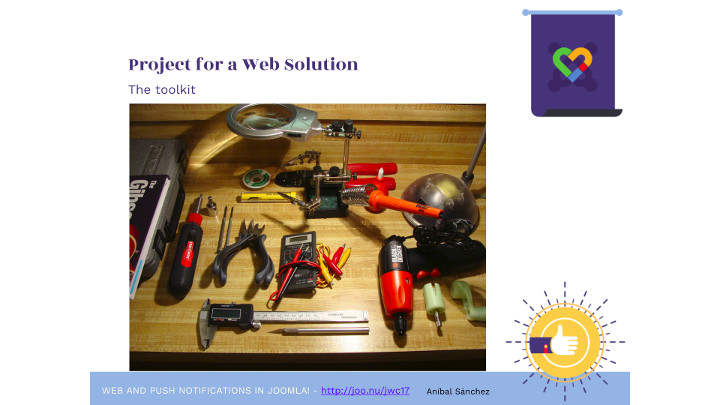 Subcategories
About me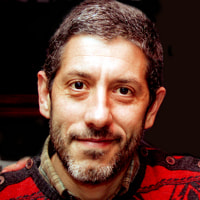 Aníbal Sánchez
selector: 'anibal_sanchez'
Follow @anibalsanchez
---