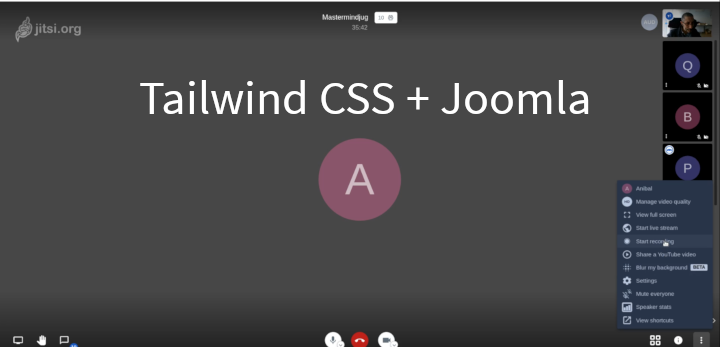 Hoy, Viernes, 03 Abril, tuvo lugar la Charla online del Joomla Mastermind JUG, Introducción a Tailwind CSS.
Los puntos que analizamos fueron los siguientes:
Inicio de proyectos con Tailwind CSS
Comparación con el framewok monolítico Bootstrap
Documentación, referencias, componentes, utilidades y materiales para el uso de Tailwind CSS
Diseño de una Tarjeta Personal 
Prueba de código en Tailwind.run
Desarrollo local con Node.js y Tailwind CSS
Prueba de hoja de estilos generada con Tailwind en Joomla 4
Diseño iterativo y evolutivo
Análisis de performance y código generado por Tailwind
Comparación de Tailwind con otros frameworks: Bootstrap, Bulma, Foundation, Tachyons, Semantic y Materialize
Implementación de estilos inline, hoja de estilos user.css o plantilla completa
Conclusiones, diseño avanzado, prototipos y próximos pasos
Aquí les dejo el link al vídeo (lamentablemente el audio no quedó grabado) y al repositorio con el código que escribimos durante la charla.
Vídeo: https://www.youtube.com/watch?v=ogUCh1_cHd8
Repo: https://github.com/anibalsanchez/mastermind-jug-introduccion-a-tailwind-css
To the moon!