Details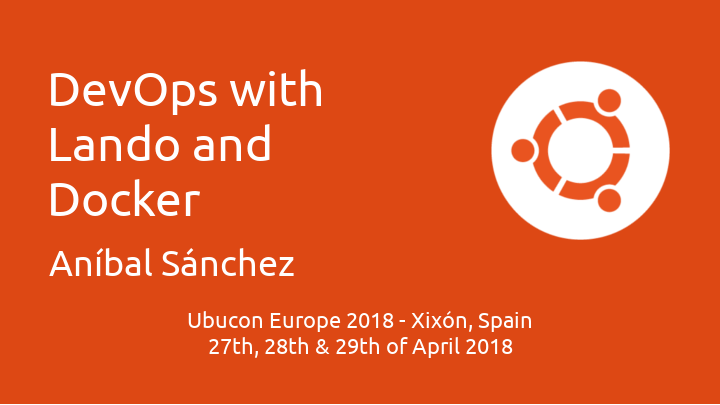 Across the world, the community gets together to organize UbuCon events to celebrate Ubuntu and forge new friendships.
Ubuntu has always been with me. I'm a confessed fanatic, and I deploy Ubuntu on every computer that I can. Now, I have the fantastic opportunity to attend an UbuCon conference, here in Gijón/Xixón, Spain, and meet the community. On top of this, I submitted a conference about Lando (https://docs.devwithlando.io), it has been accepted and I will be honoured to introduce this toolkit.
Lando is for developers who want to quickly specify and painlessly spin up the services and tools needed to develop their projects.

It's a free, open source, cross-platform, local development environment and DevOps tool built on Docker container technology and developed by Tandem. Designed to work with most major languages, frameworks and services, Lando provides an easy way for developers of all types to specify simple or complex requirements for their projects, and then quickly get to work on them. Think of it as your local development's dependency management tool...
Don't miss this event. It's going to be awesome. Registration is still open http://ubucon.org/en/events/ubucon-europe and the Schedule have been published http://ubucon.org/en/events/ubucon-europe/schedule.
To the moon!
Details
Continuing with the subject of the "Mobile Apps Development for Websites", which took place at Joomla! Day Madrid 2017, we are now going to introduce the integration of web and push notifications in Joomla!.
Notifications are a new mean of direct communication with users. They have unlimited potential, but also a capability that must be used with care. In the presentation, we will present the integration of Joomla! with Web Notifications and the integration of a SlimApp with Push Notifications and our Joomla! site. Finally, we will also introduce notification services like OneSignal or Pushwoosh.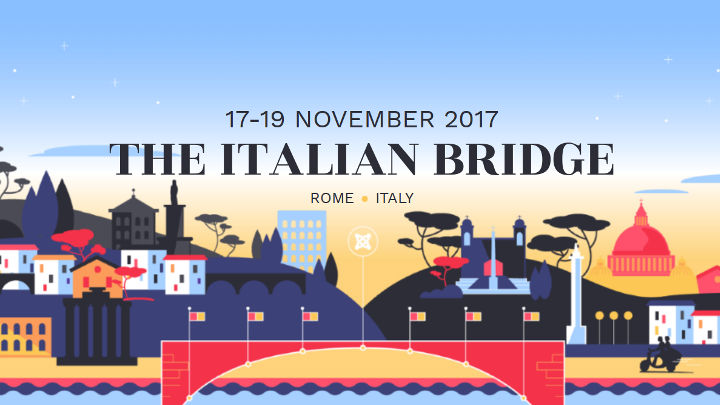 If you plan to go to the conference, Blind Bird tickets are now on sale: https://conference.joomla.org/buy-tickets.html
If you are Interested in sponsoring the Joomla! World Conference 2017, there are packages still available: https://www.sponseasy.com/p/joomla-world-conference-2017
See you in Rome!
Recommended Reading
UPDATE: Web and Push Notifications for Joomla! - Slides
After few more updates and corrections from community feedback, here they are the final Slides. http://joo.nu/jwc17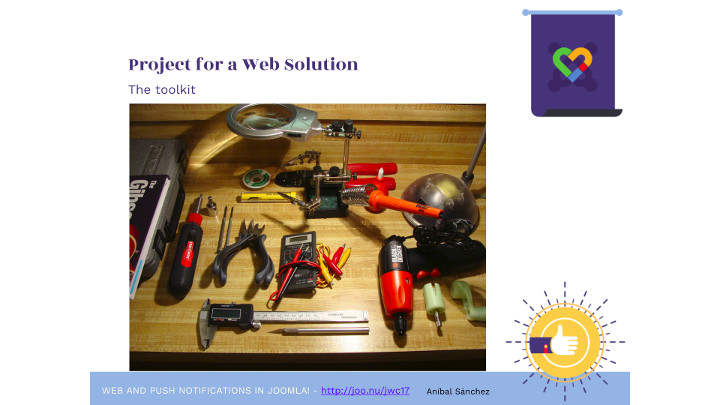 Details
In November 2016, I had the unique opportunity to attended two featured technology events. In a first place, I was invited as Open Source Contributor to WebSummit 2016 and secondly I attended to JoomlaDay Granada 2016. The differences between both events are remarkable, and an accurate description of the current challenges that we face today.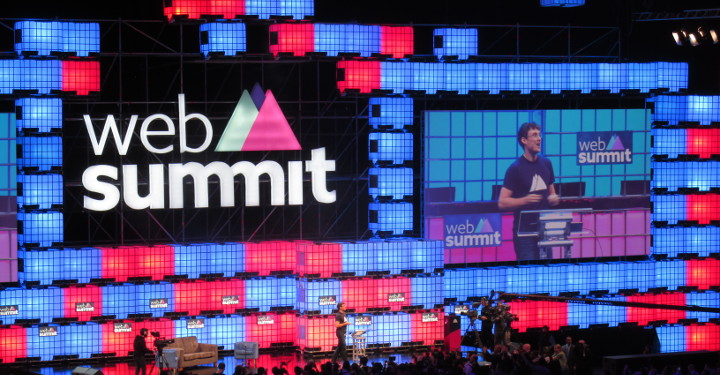 WebSummit is a huge European event, with an audience of more than 50,000 attendees, where you can find from big corporations, showing well-planned marketing campaigns, to small start-ups pitching non-working prototypes.
In previous years, WebSummit had taken place in Dublin, but this year, to reach a greater scope, the organisation jumped to Lisbon and executed a perfect strategy. In this context, the beautiful city of Lisbon received our invasion of professionals of the web world, accepted the bet, and it was ready to answer with a proper infrastructure and an army of volunteers.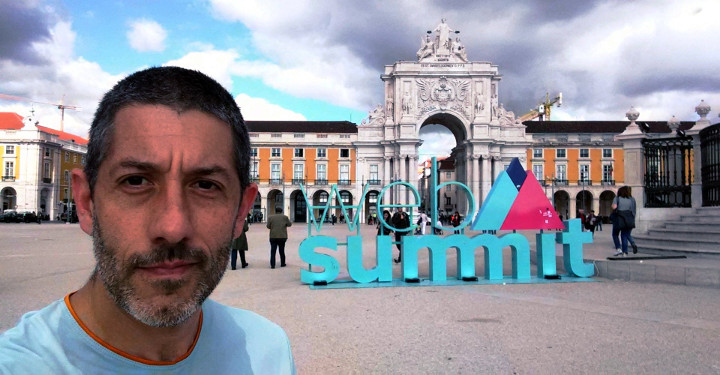 At this scale, the organisation pulled a success. We can argue that in the first days all venues were full and it was even difficult to listen to the talks in open spaces. Still, after the initial madness, there was room to talk, learn new ideas, or touch the raw source of technology innovation. In this arena, topics like artificial intelligence, big data, drones, virtual reality, automotive, IoT, bots or robotics had their 15 minutes of fame. Of course, we could find our regulars: SaaS, E-commerce, creatives, marketers and technologists, leading banks, sports business, etc. Overall, the current landscape of web technology was well represented.
On the other hand, I attended JoomlaDay Granada 2016, an event organised by our Joomla! Spanish community. An always incredible opportunity to meet Joomlers, friends, colleges, and students. All of us summoned by our common interest in Joomla! CMS and open source technology. A moment of time when we were privileged witnesses of how a user group in Granada takes shape.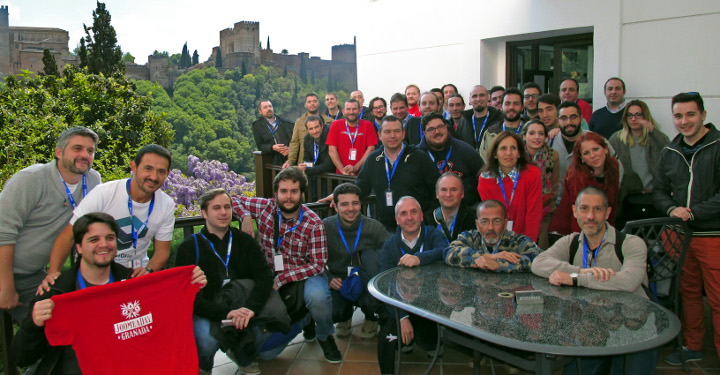 Both experiences could not be more different. WebSummit prices go from 300€ up to 5.000€, over a year until it is sold out. JDays are frequently free, sponsored by featured software developers or services providers, and located in educational or governmental venues.
From a Joomler point of view, WebSummit is an alien environment. It can be overwhelming or totally annoying. We are used to our community, where close relationships are formed along years to form small niche of nerds. We know each other and we know our professional skills to the detail. For instance, in our gatherings, we talk about what we have been doing recently, not even talking about our commercial activity.
Out there, there is a whole world to challenge us. In the wild, we can find new ideas and apply new concepts to our systems. Evolution is the key to surviving. We need this technology pressure to understand the challenges that our users face every day. To be precise, in Joomla, we have pending questions that we need to answer, and I find myself also looking for solutions to these problems. We only have to combine these new concepts and Joomla! to find new growth opportunities. To be crystal clear, we are in a post-web and post-mobile era; we have to adopt these ideas to evolve.
To sum up, I can conclude that both events helped me to better understand the current state of the art of web technology. In our niche, we have highly qualified enthusiasts, ready to solve any problem. We have a legacy of more than ten years of one of the finest pieces of technology ever created by an open source community. Nothing is stopping us from lead the change into modern times. So, the big question is: do you dare to go there?
Details
My Joomla! marathon started in Joomla! World Conference 2015. I was awarded as project volunteer with JET to attend JWC15! and I presented a session about Mobile Apps at JWC 2015. This community event was my first international conference to meet a big part of Joomla! community. Volunteers who daily collaborate with the project, but rarely have the opportunity to meet in person.
To read more about the experience:
If you have the chance to attend the current edition of Joomla World Conference 2016, DO NOT miss the opportunity.

Looking back, a particular session was moving and intriguing for me: JWC15 - Building and Maintaining a Healthy Community, by Priyanka Nag.
Fast forward to September 2016, I am a brand new member of Joomla! Community Leadership Team and her words have a new meaning and embody a call to my inner project manager:
Belonging: A sense of belonging is what keeps people in communities.
Open Communications: With an open community and publicly visible and accessible communication channels, anyone can join the community.
Open Tools: Anyone with an Internet connection and computer can contribute.
Community Leader: Who is He / She?
A Community Leader's Responsibilities:

Enable People
Trust is everything
The Value of Listening
Avoid Ego, or Others Will Avoid You

Scaling the Community

Building the right tools
Resolving community conflicts - CONFLICTS CAN'T BE AVOIDED -
Multiple Communication channels

Community TODO List

Identify how we can divide our community into teams
Ensure that teams can communicate clearly and effectively
Define the scope of each teams, and help team members understand that scope
Encourage diversity and opportunity in the community
Produce a Code of Conduct

Quick Steps to Resolve a Conflict

Calm and reassure
Get the facts
Discuss
Document
Reflect and maintain

Working with an Open Community

Good - Open by default, real diversity
Bad - Working with partners (Source, by Stormy Peters)
Ugly - Not enough time, lack of commitment, meetings
To the moon!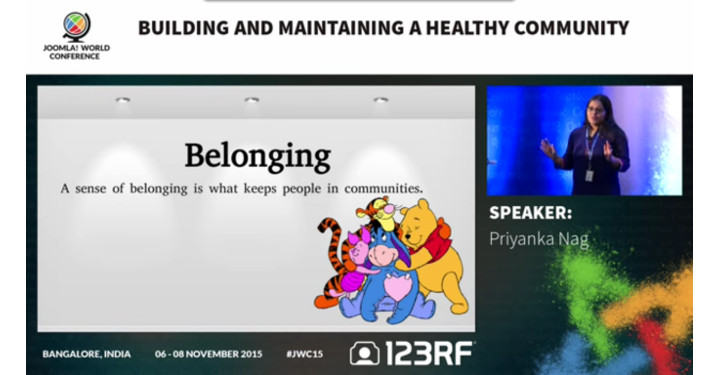 Excerpt

Open Source organizations and projects are driven by the strength of its community. We have often seen but how big communities fall because of wrong ways of handling it or mismanagements. My talk will be around the lines of how a community leader or manager can take a few extra responsibilities to keep a community healthy.

Description

Being in the Open Source world for the last 4 years, I have got opportunity of working with several different communities. I am also currently working as community manager, here at Scrollback.

Communities are tough to build, true, but what we often forget is the fact that once built, these communities are even tougher to be maintained.

There are some very simple rules around maintaining the health of these communities. Through my talk, I would like to point out a few of those simple tricks to building and maintaining a healthy community.
More references
About me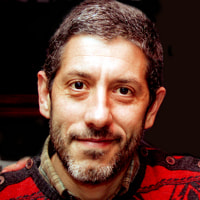 Aníbal Sánchez
Follow @anibalsanchez
---