Details
After many years of build extensions for Joomla with traditional tools like bash scripts or Phing, I have started a project Extly's Buildfiles for Joomla to modernize my personal Toolbox for Joomla extension development: anibalsanchez/extly-buildfiles-for-joomla.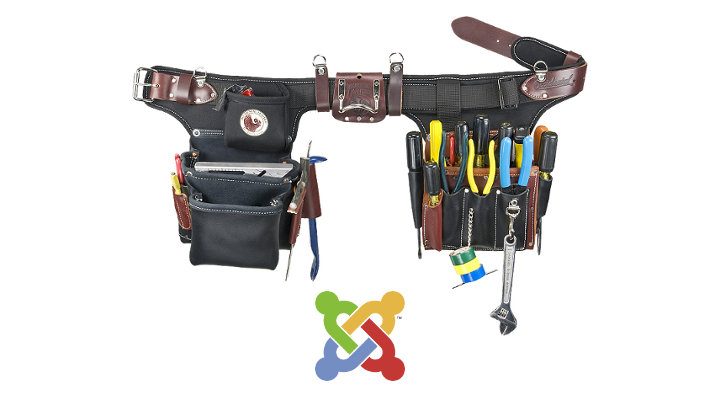 At this time, JavaScript is a dominant driven force in all of my projects. So, seamless integration between PHP and JavaScript ecosystems is the best approach. So, the build scripts are mainly based on JavaScript dev tools to integrate modern PHP and Joomla development.
The key features of the project are:
Powered by Webpack to build and support the development workflow
Support for any type of Joomla extension: component, CLI files, template, etc.
Flexibility, to exclude and customize the package merely deleting folders or customizing the build template files.
Template files to create the manifests
Translation files to automate the translation management.
A Library, to pack Composer libraries or any other library.
Support of mobile apps, progressive apps or single page apps (App folder)
When the project started, I forked it from joomla-extensions/boilerplate, with the idea of submitting a PR to improve the original project. However, the addition of scripts to manage the package and control the extension has increased the complexity beyond what a user would expect from a boilerplate project.
To sum up, I have already migrated more than 20 extensions to the new organization, and the build files are supporting well the development process. The experience confirms that it is possible to integrate JavaScript and PHP in the creation of a single ecosystem. Both technologies can stand at the same level and be complementary to evolve together. The next logical steps are going to be the migration of the rest of my extensions and the implementation of build server based on these build files.
Feel free to clone, fork, use it or propose improvements. To the moon!
Details
After the last crazy-busy months of April and May 2018, I'm finally catching up with the delayed tasks. In the rush of preparing the presentation for UbuCon 2018 - Devops with
Lando and Docker, I also published an ambitious project: Lando Boilerplates for Joomla, WordPress and PrestaShop (GitHub repo).
I have been improving the project mainly with Joomla tooling, but also included WordPress CLI and PrestaShop recipes.
At this point, after these months of development and testing, I think that the recipes are improving and the direction is clear to implement best-practices and advanced tooling (integrated phpMyAdmin and MailHog) for CMSs. For instance, the current tools for Joomla include these nice commands for Lando:
"install", to download and extract the latest Joomla
"kick-restore", to download Akeeba's kickstart and extract a JPA backup
"unite-restore", to install a JPA backup with Akeeba's Unite
"dev-config", to apply my favourite local development configuration to Joomla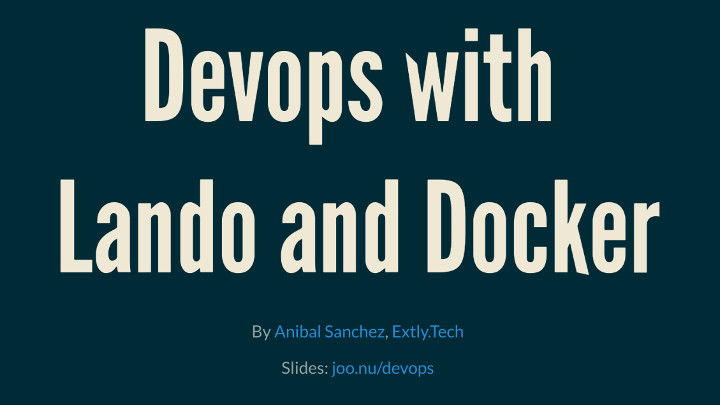 This is the repository where I'm publishing the updates: https://github.com/anibalsanchez/lando-boilerplates-for-joomla-wordpress-and-prestashop
To sum up, Lando is progressing at giant leaps and the combination of different CMSs is perfect for DevOps development.
Details
Today, I'm reading this article with a reflection about the current trend of JavaScript dominance: What if JavaScript wins?
From my last attendance to J and Beyond 2018, I can say that there were many sessions devoted to the topic of JavaScript development and the associated technologies. So, in some way, the current trend is affecting every corner of our world.
Details
In this session, we are going to talk about the techniques and technologies necessary to develop a state of the art extension. Building on top of a classic component that includes modules and plugins, we are going to add a quality assurance procedure, progressive features, packaging tools and continuous deployment services.

Slides: joo.nu/jmodern

Video: https://youtu.be/sIpEOG9kkeM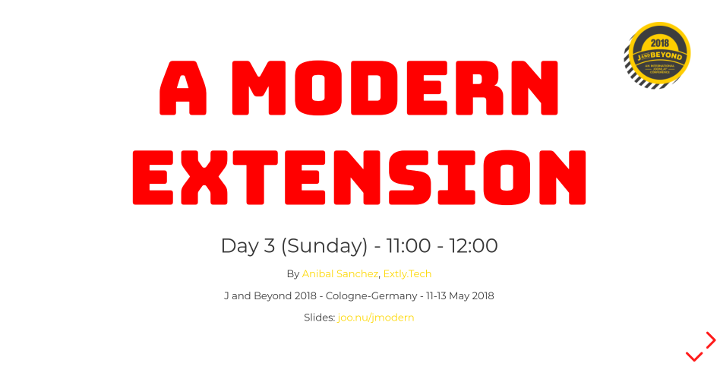 Slides: joo.nu/jmodern
Video: https://youtu.be/sIpEOG9kkeM
See you in Cologne!
About me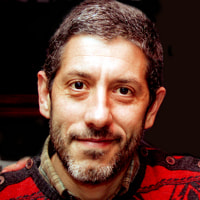 Aníbal Sánchez
Follow @anibalsanchez
---